Welcome To
DUSTIN DEWALD CUSTOM HOMES
Dustin Dewald Custom Homes builds unique and expertly designed custom homes throughout Central Texas. We specialize in creating one of a kind dream homes with extreme attention to detail, energy efficiency, and unmatched customer service. At Dustin Dewald Custom Homes we guide our clients through the entire homebuilding process. From initial planning, design, specifications, financing, to finished project we are there with you.
Read More
Testimonials
The Allison Residence

When you begin the journey of building a custom home you have so many questions and concerns. The biggest of them being, whom do I pick to build my home? If you have made it to this website, you need not look any further.

Dustin built a few of our friends' homes, so we already had a level of comfort knowing how happy they were with their experience. We looked at a few other builders, but ultimately decided to trust Dustin with our dream home. From our very first meeting we were put at ease as Dustin explained his process from start to finish. One of the things we enjoyed most was the fact that by the time we were ready to sign our construction contract, we knew exactly what our home would look like and how much it would cost. You can imagine the peace of mind knowing there won't be surprises at the end when it comes to your final cost.

Throughout the process Dustin and his team (Rick and Drew) were always there to answer any questions or concerns we had as well as meet demands we made in terms giving us exactly what we wanted. Were there bumps in the road? Absolutely, that is to be expected. But we always trusted Dustin's process and in the end, he gave us the home we had envisioned at the start. Perhaps the biggest compliment we can give is that if we had to start the process over again today, we wouldn't hesitate to pick Dustin.

Best of tuck with your dream home. Dustin will take great care of you!

Todd & Julie Allison

The Ewart Residence

Dear Dustin,

I just wanted to write a note to let you know what a pleasure it has been working with you and how happy we are with our home. From our first meeting, both Fran and I felt comfortable working with you. You came across as a straight-shooter, a person who would do what he said he would do, very down to earth, and a good listener. All of our first impressions proved to be true. In the beginning, we only had magazine pictures, a feel for the home we wanted to build, and a budget. You designed a home that was exactly what we wanted and was within our budget. We absolutely love the plan of our home. From the day construction began, we were impressed with the quality of workmanship. All of the subcontractors were professional and did quality work. Everything happened on schedule and was completed on schedule. And we really appreciate all the extras you did for us; finding contractors to build our road, put in a front gate, the studio, fence work, and the list goes on. You really went way above and beyond the call of duty for us and it made a real difference in our experience. I've heard it said that building a house can put strain on you and your marriage. That certainly wasn't the case for us. Working with you to build our house was a pleasure and our experience was nothing but great. Fran and I actually had fun watching the house go up and we never had a single episode where something was not done right or the construction process did not go as we had been told. And now, we absolutely love our home. We have lived in the house for over a year and everything has been great. This is a quality built home, very energy efficient, everything works, and to us, the house is beautiful. We often remark to each other what good fortune it was that we walked into your office that day. You're a wonderful guy to work with and have truly built us the house of our dreams.

Ned and Fran Ewart
The Reserve at Skyline Mountain
The Reserve at Skyline Mountain is possibly the finest upscale development in the Fort Hood area and offers 57 home sites in Phase I. The home sites range in size from ½ acre to well over 1 acre and include all city services such as city water, sewer, and garbage collection which is very rare for lots of this size.
All 57 home sites are much wider than normal lots of this size to provide excellent house separation and privacy.
There are 31 exclusive home sites with unmatched 10-20 mile views to the east and north overlooking the lights of Copperas Cove, Fort Hood, and Killeen. On these home sites you can enjoy the sunrise on your back patio in the morning and have late afternoon shade from the summer sun.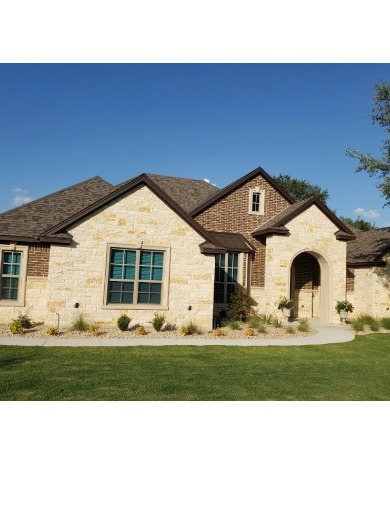 Our Association